Thursday November 12, 2009
PHOTOS: Cow Striper Fishing Report
I just got this fishing report forwarded to me by Striper Dave from a message board acquaintance. He wanted to share this report and the accompanying photos with our readers. Big THANKS for sharing and you do know how to catch'em good!
We jumped on the opportunity of a walk on trip now that the big fall fish arrived. We left the dock at 6 and headed straight out and started dropping the 26 or so lines. It was a beautiful day!
We had a steady pick all day. No type of lure or color was "hot." Deep dummy lines, boat rods, and planer rods all caught fish, although the 2 biggest were on big single chutes off the boards.
We ended the day around 1:30 and I dont know the exact count but it was between 25-30 fish. Seven were over 40 inches and even 10 or so under 28 inches - all on 9" or bigger shads.
Gannets were scattered but diving here and there all day. Most fish were in 50 plus feet of water.
I started the day with a 42 incher tying my personal best...My bud Jon got his personal best 43.5 inches. Then later I got my personal best 46.5 inches on a single chute on a lighter rod which was a blast!
Editors Note: These anglers were fishing with Capt. Greg Buckner aboard the Miss Susie.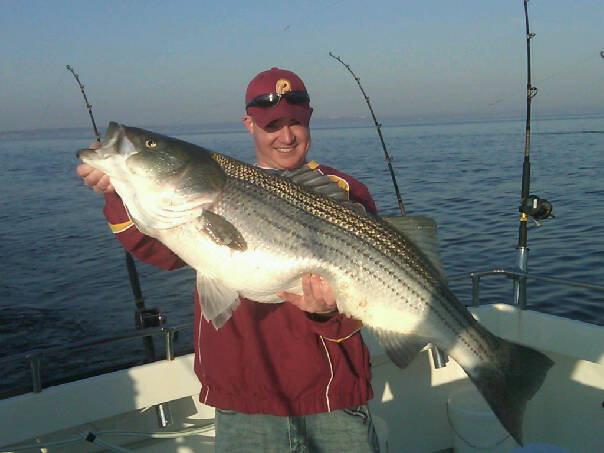 blog comments powered by

Disqus